Borreload eXcharge Dragon
---
Dragon / Xyz / Effect
DARK /
4
---
2 Level 4 DARK Dragon monsters
Neither player can target this Xyz Summoned card with monster effects, except its own. Once per turn: You can detach 1 material from this card, then target 1 face-up monster on the field; it loses 600 ATK/DEF, then, you can Special Summon 1 "Borrel" monster from your GY, but banish it during the End Phase, also you cannot Special Summon other monsters or attack directly for the rest of this turn.
---
3000/2500
CARD ID:
06247535
STATUS TCG:
Powered by
yugioh.wikia.com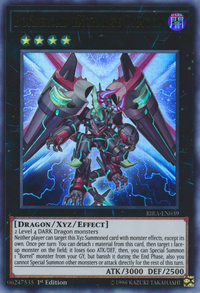 TCG SETS
| TCG Set | Symbol | Rarity | Low | Avg | Trend | |
| --- | --- | --- | --- | --- | --- | --- |
| Rising Rampage | RIRA-EN039 | Ultra Rare | 0.19€ | 0.74€ | 0.78€ | |
Card Trivia
This monster is the cover card of Rising Rampage.
---
This card has the highest ATK for a Rank 4 Xyz Monster.
---
This card is the only Xyz Monster in the Borrel archetype.
---
It is also the only member of this archetype to have neither a Level nor a Link Rating.
---
It is also the only Xyz Monster used in Yu-Gi-Oh! VRAINS whose Type is not Cyberse.
---
This card is an Xyz counterpart to Borreload Dragon.
---
This monster bears a nearly amalgamated resemblance to a few mecha from other anime.
---
Its shape and color scheme resemble the Super Galaxy Gurren Lagann from Tengen Toppa Gurren Lagann.
---
Its sizes and appearance seems to resemble the titular Gunbuster.
---
Its shoulders resemble the piston forearms of the titular Big O.
---
Much like Borreload Dragon and Firewall Dragon, this card and Firewall eXceed Dragon appear to contrast and mirror each other's poses and have opposite color schemes, showcasing a rivalry between the two cards.
---
In addition this card and Borreload Dragon also have the same Rank/Link Rating as their Cyberse counterparts, but have stricter materials (this card needs DARK Dragon monsters and Borreload Dragon needs +3 Effect Monsters to summon).