Boogie Trap
---
Normal / Spell
---
Discard 2 cards, then target 1 Trap in your GY; Set that target. It can be activated this turn. You can only activate 1 "Boogie Trap" per turn.
CARD ID:
96704974
Powered by
yugioh.wikia.com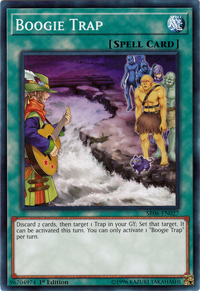 TCG SETS
Card Trivia
This card is the Trap Card version of Magical Stone Excavation.
---
The knight and the two goblins from the artworks of many Trap Hole cards appear in this card's artwork.
---
The rat from Eatgaboon and the blue creatures from House of Adhesive Tape, both Trap Cards with similar effects to the Trap Holes, also appear in this card's artwork.
---
This card's name is a pun on booby trap and boogie (meaning to dance), as the person on the left appears to be luring his victims into a trap with music.
---
With this in mind, this card's artwork may be a reference to the legend of the Pied Piper of Hamelin, as the titular piper lured the rats of Hamelin to a river where they drowned.
---
The presence of the 1 rat in this card's artwork alludes to this as well.
---
The beguiling guitar player in this card's artwork also wears multiple colors, which corresponds to the definition of the adjective pied.