Black Fang Magician
---
Spellcaster / Pendulum / Effect
DARK /
4 /

8
---
Pendulum Effect: Once per turn: You can target 1 face-up monster your opponent controls; its ATK becomes half its current ATK (until the end of this turn), then destroy this card.
---
Monster Effect: (This card is always treated as an "Xyz Dragon" card.)
If this card is destroyed by battle or card effect: You can target 1 DARK Spellcaster-Type monster in your Graveyard; Special Summon it.
---
1700/800
CARD ID:
75672051
Powered by
yugioh.wikia.com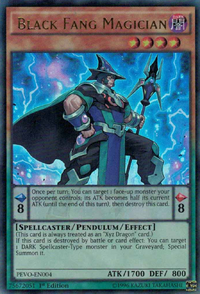 TCG SETS
Card Trivia
This monster is the Magician form of Dark Rebellion Xyz Dragon.
---
Its design is based on Dark Rebellion.
---
Its Pendulum Effect to halve an enemy monster's ATK, is based on the effect of Dark Rebellion
---
Its Monster Effect when it is destroyed, however, mimics that of Dark Requiem Xyz Dragon, that Special Summons a black-themed monster (DARK or Xyz Monster) from the Graveyard.
---
It is a Level 4 Monster, which is required to Xyz Summon the dragon.
---
Its name is a reference to both the dragon's color scheme and its Summon chant in Yu-Gi-Oh! ARC-V.