Bingo Machine, Go!!!
---
Normal / Spell
---
Reveal 3 cards from your Deck that each meets at least 1 of the criteria listed below, your opponent randomly picks 1 for you to add to your hand, and you shuffle the rest into your Deck. You can only activate 1 "Bingo Machine, Go!!!" per turn.
● "Blue-Eyes" monster.
● Spell/Trap that specifically lists the card "Blue-Eyes White Dragon" or "Blue-Eyes Ultimate Dragon", except "Bingo Machine, Go!!!".
CARD ID:
93437091
STATUS TCG: Unlimited
Powered by
yugioh.wikia.com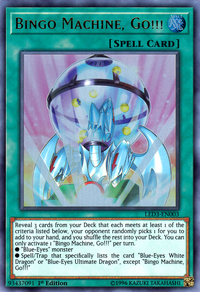 TCG SETS
Card Trivia
This card is based on the very machine that was used to determine the quarterfinals of the Battle City tournament.
---
The artwork is taken from when the machine is first used in Duel 144: The First Enemy!