Beckoned by the World Chalice
---
Warrior / Normal
EARTH /
4
---
''His battle with the Mekkstrosities never seems to end. Even when their forest was invaded by Mekkstrocious Insects, he stood his ground and inspired the other defenders around him.''
---
1800/0
CARD ID:
58400390
Powered by
yugioh.wikia.com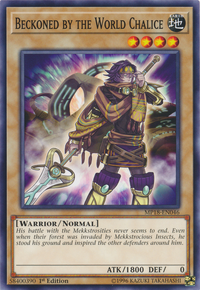 TCG SETS
Card Trivia
This monster appears in the artwork of World Legacy Discovery, World Legacy's Nightmare, World Legacy's Sorrow, and Orcustrated Return.
---
Ningirsu the World Chalice Warrior is this card after having been empowered by the World Chalice artifact.
---
Since the events depicted on World Legacy's Sorrow, Beckoned/Ningirsu became Longirsu, the Orcust Orchestrator.