Barrage Blast
---
Continuous / Trap
---
Once per turn: You can detach any number of materials from Machine Xyz Monsters you control, then target that many cards on the field; destroy them. If a Machine Xyz Monster(s) you control is destroyed by battle or an opponent's card effect while this card is in your GY: you can banish this card and 1 Machine Xyz Monster in your GY; inflict damage to your opponent equal to the Rank of the banished monster ×200.
CARD ID:
51369889
Powered by
yugioh.wikia.com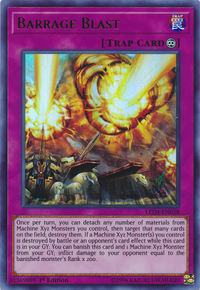 TCG SETS
Card Trivia
From left to right, Number 81: Superdreadnought Rail Cannon Super Dora, Superdreadnought Rail Cannon Juggernaut Liebe and Superdreadnought Rail Cannon Gustav Max appear in this card's artwork.
---
A Blitzkrieg is where an attacking force is spearheaded by armored and mechanized infantry.
---
The term was first used to describe German infantry. The Railway Cannons that inspired the XYZ are based off of the drafted during WW2.