Back to the Front
---
Normal / Trap
---
Target 1 monster in your GY; Special Summon it in Defense Position.
CARD ID:
59919307
STATUS TCG: Unlimited
Powered by
yugioh.wikia.com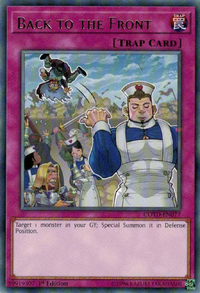 TCG SETS
Card Trivia
Marauding Captain, Field-Commander Rahz, Freed the Matchless General, Muscle Medic and the unnamed warrior from the artworks of Cry Havoc!, The A. Forces, and Marmiting Captain appear in this card's artwork.
---
This card's artwork continues the events of First-Aid Squad, with the Muscle Medic sending Marauding Captain back to the frontlines after treating his injuries.
---
This card's TCG name is a pun on the words Back and Front.
---
Back to the Front is also a reference to the Movie Series ".
---
This card's name also may be a reference to the song, , who's chorus is begun with the phrase Back to the Front!".