Artifact Scythe
---
Fairy / Effect
LIGHT /
5
---
You can Set this card from your hand to your Spell & Trap Zone as a Spell Card. During your opponent's turn, when this Set card in the Spell & Trap Zone is destroyed and sent to your Graveyard: Special Summon it. If this card is Special Summoned during your opponent's turn: Your opponent cannot Special Summon monsters from the Extra Deck for the rest of this turn.
---
2200/900
CARD ID:
20292186
Powered by
yugioh.wikia.com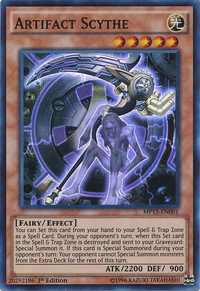 TCG SETS
Card Trivia
This is the first TCG-exclusive Artifact monster.
---
This monster is based off a Scythe, a farm tool used to harvest crops.
---
The Scythe is also usually wielded by the Grim Reaper, fitting its full title as the Reaper of Souls.