Arcanite Magician/Assault Mode
---
Spellcaster / Effect
LIGHT /
9
---
This card cannot be Normal Summoned or Set. This card cannot be Special Summoned except with "Assault Mode Activate". When this card is Special Summoned, place 2 Spell Counters on it. This card gains 1000 ATK for each Spell Counter on it. You can remove 2 Spell Counters from this card to destroy all cards your opponent controls. When this card on the field is destroyed, you can Special Summon 1 "Arcanite Magician" from your Graveyard.
---
900/2300
CARD ID:
14553285
STATUS TCG: Unlimited
Powered by
yugioh.wikia.com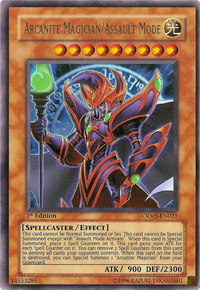 TCG SETS
Card Trivia
A reversed Dark Magical Circle appears in this card's artwork.
---
The armor of this monster appears in the artworks of Arcane Apprentice and Assault Overload.
---
The cloak this monster wore as Arcanite Magician has been removed, though a part of it is now used as a cape.
---
This card has the lowest original ATK of all /Assault Mode monsters.
---
Despite having more ATK, Supreme Arcanite Magician has a weaker effect than this card.
Rulings
---
OCG Rulings
---
Removing two Spell Counters is a cost to activate the effect which destroys the cards your opponent controls.
The effect which places a Spell Counter on "Arcanite Magician"/"Arcanite Magician/Assault Mode" does not target the monster.
: Does the effect of "Arcanite Magician/Assault Mode" which places Spell Counters on it target?
Assault Mode Monster Rulings=
{{:Card Rulings:/Assault Mode