Amphibious Swarmship Amblowhale
---
Machine / Link / Effect
---
2+ Effect Monsters
Gains 200 ATK for each Link Monster in the GY's. You can only use each of the following effects of "Amphibious Swarmship Amblowhale" once per turn.
● If this card is destroyed: You can target 1 Link-3 or lower monster in either GY; Special Summon it.
● If a Link-3 or lower monster(s) on the field is destroyed by battle or card effect while this card is in your GY: You can banish this card from your GY; destroy 1 card on the field.
---
ATK/2600 [LINK-4]
CARD ID:
20665527
Powered by
yugioh.wikia.com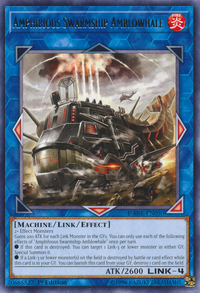 TCG SETS
Card Trivia
The Podship part of this card's name, coupled with the appearance of the vehicles in this card's artwork, may refer to the fact that a pod is the word commonly used for a group of whales.