Altergeist Pixiel
---
Spellcaster / Effect
WIND /
1
---
You can Tribute this card; excavate the top 3 cards of your Deck, add 1 excavated "Altergeist" card to your hand, also send the rest to the GY. You can only use this effect of "Altergeist Pixiel" once per turn.
---
100/100
CARD ID:
57769391
Powered by
yugioh.wikia.com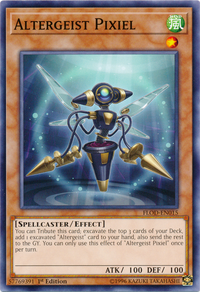 TCG SETS
Card Trivia
This card is the only Altergeist monster not to have appeared in the anime.
Rulings
---
OCG Rulings
---
You can activate the effect of "Altergeist Pixiel" even if you have no "Altergeist" cards in your Deck. In that case, since none of the 3 excavated cards will be "Altergeist" cards, all 3 are sent to the Graveyard.