Aleister the Invoker
---
Spellcaster / Effect
DARK /
4
---
(Quick Effect): You can send this card from your hand to the GY, then target 1 Fusion Monster you control; it gains 1000 ATK/DEF until the end of this turn. If this card is Normal Summoned or flipped face-up: You can add 1 "Invocation" from your Deck to your hand.
---
1000/1800
CARD ID:
86120751
STATUS TCG: Unlimited
Powered by
yugioh.wikia.com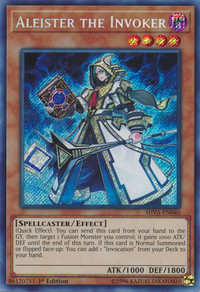 TCG SETS
Card Trivia
This monster appears in the artworks of Invocation and Magical Meltdown.
---
This monster is holding The Book of the Law.
---
The name of this monster refers to Aleister Crowley, an English occultist, ceremonial magician, poet, painter, novelist, mountaineer, and founder of the religion of Thelema.
---
Fittingly, Crowley, the First Propheseer appears to be an older version of this monster.
---
Also, Magistus Grimoire Crowley appears to be a younger version of this monster.
---
This card has a Link Monster counterpart/evolution; Aleister the Invoker of Madness.